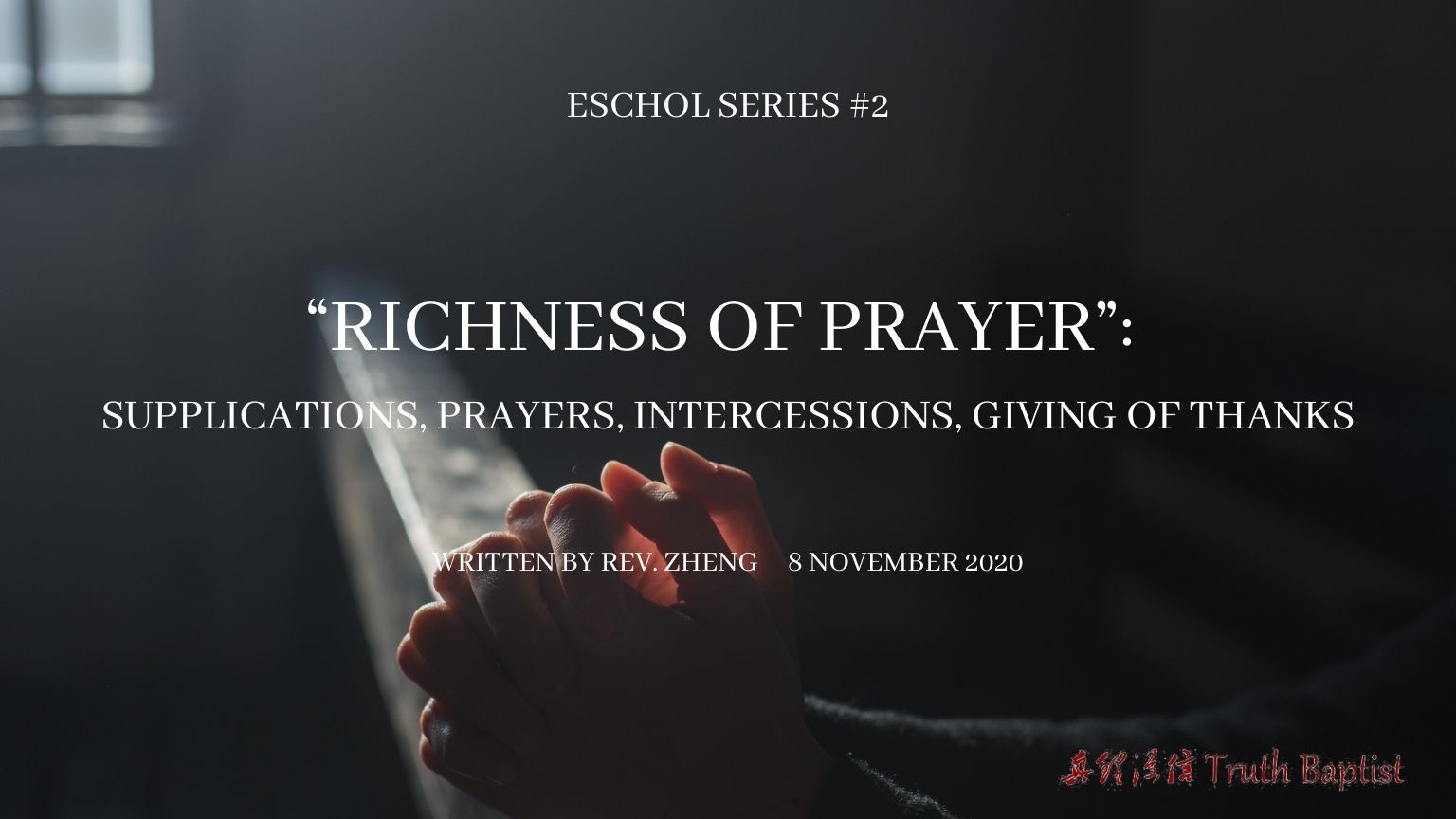 "The prayer of a righteous man is powerful and effective." Jas 5:16
Prayer is not a privilege in the New Testament era only. Long before in the Old Testament, other than the priest prayed on behalf of the congregation in the sanctuary (Lk 1:10), believers also offered personal prayers. It was recorded in instances such as Hannah who confided in God as she "prayed to the LORD" in the tabernacle (1Sa 1:10), Daniel who "got down on his knees and prayed, giving thanks to his God three times a day" in the palace of Persia (Da 6:10), and Nehemiah who prayed to God silently in his heart before the Persian king (Ne 2:4). The believers in the Old Testament did not only pray in the tabernacle or the sanctuary, neither was prayer a privilege given to the people bearing sacred duties. Rather, the believers prayed on many occasions – to confide in God, to confess their sins, to sing praises, as well as to implore the Lord. The Bible records of prayer demonstrated the special relationship between God and Israel – the intimate relationship of the Creator God and created beings, the God of Salvation and the chosen people, and that of a Father and son; this is vastly different from the relationship of the pagans and their gods, in which prayers were offered for mutual benefits.
Today, many Christians limit their prayers to making request. This was partly due to the influence of the Chinese folk beliefs, as well as the fallacy inherited from the Dark Ages which suggested that the prayers of the clergies are of special privilege. I had the same misunderstanding when I was just converted from Buddhism, later on when I read James 5:16, I was amazed that I too am given such a great privilege of prayer.
God has given us many promises relating to prayers as the birth right of a Christian in His perfect salvation. Let us learn about prayer and God's will for prayer, so that our relationship with God may be deepened.
"I exhort therefore, that, first of all, supplications, prayers, intercessions, and giving of thanks, be made for all men;" 1Ti 2:1 KJV
The Bible summarises prayers into four types in this verse, each expressed by a different Greek word. We will study each one of them, beginning with the most common type of prayer – simply, prayer.
Hearty Prayer προσευχή, ῆς, ἡ
"Prayer" in Greek is formed by the word "communication" and the word "wish", which means communicating wishes with God. It is a process of exchange during which God bestows confidence to the person praying, while the person gradually surrenders his will and replaces it with God's will. God takes delight in and is patient to have a hearty communication with us so as to strengthen our faith in Him. To prevent confusion, this article refers to this kind of prayer as "hearty prayer".
Lord Jesus often went up to the mountain alone, to pray heartily. The famous prayer in the Garden of Gethsemane was also of the same kind, as recorded in Luke 22:
"'Father, if you are willing, take this cup from me; yet not my will, but yours be done.' An angel from heaven appeared to him and strengthened him. And being in anguish, he prayed more earnestly, and his sweat was like drops of blood falling to the ground." Lk 22:42-44
The Lord Jesus expressed his desire to have the cup removed from him, but he also expressed his willingness to submit to the Father's will, especially on this matter. For three times he prayed in this manner, demonstrating his struggles in succumbing his will to the Father's will. During the third time, God sent an angel to add strength to him to bear the cup. God's will was accomplished, Christ gave himself over to the Roman soldiers and was crucified according to the Father's will.
There are other examples of hearty prayer in the Bible, for instance the conversations of prophet Habakkuk and God, that of Job and God…etc. The outcomes of these conversations were similar – men were renewed and God was glorified. There was one exception, the prayer of Balaam, a diviner living in the land of the east. He conversed with Yahweh, but was not willing to submit to God's will out of greed (Nu 22).
Most of the instructions and promises on prayers in NT refer to hearty prayers, with men submitted to God's will eventually. For example,
"If you believe, you will receive whatever you ask for in prayer." Mt 21:22
"The prayer of a righteous man is powerful and effective." Jas 5:16
"Do not be anxious about anything, but in every situation, by prayer and petition, with thanksgiving, present your requests to God." Php 4:6
"But we will devote ourselves to prayer and to the ministry of the word." Acts 6:4
"Watch and pray so that you will not fall into temptation." Mt 26:41
"I will pray with my spirit, but I will also pray with my mind" 1Co 14:15
"Love your enemies and pray for those who persecute you" Mt 5:44
"Pray continually" 1Th 5:17
…
The promises and commands of these prayers tell us that praying it is not simply about giving God a list of what we want, but sincerely and honestly conversing God with an open heart. In this process, God's righteous and good will would displace the unrighteous and ungodly human will, and He will also strengthen us to let go of our will and accept His will gladly.
Anyone who is in Christ would be able to pray in the manner, because it is done through the indwelling Holy Spirit and through God's revealed word. This is also what Paul meant to "pray with my spirit" and "also pray with my mind". The Holy Spirit reminds us of God's words, guides us to understand God's will and empower us to accept it.
"But when he, the Spirit of truth, comes, he will guide you into all truth. He will not speak on his own; he will speak only what he hears, and he will tell you what is yet to come." Jn 16:13
Note that trying to hear God's voice without reading the Bible is dangerous, as we also hear the voices of our sinful nature, the voice of the world and of the devil. Therefore, we have to quieten our souls and be truthful to ourselves before we can hear the voice of the Spirit.
In this regard, hearty prayer is a spiritual discipline of our faith, to learn to say to God, "Have thine own way, Lord", to let God be my joy in whatever circumstances. Isn't this what the Lord Jesus taught us when he said "But seek first his kingdom and his righteousness, and all these things will be given to you as well." Mt 6:33 It is the kind of praying we do in our daily devotion. Every child of God needs to engage in hearty prayer with the Father.
Today, even though we are unable to speak to God face-to-face like Moses did, we can speak to God our Father through Christ. Dear saints, have you ever prayed heartily? Are you willing to learn and practise this wonderful gift of God?
The next sharing will be about "supplications" and intercession.